Dear guests,
theaters, museums and concert halls first have to remain closed due to the Corona virus. So that the ceiling does not fall on our heads, many cultural organizers offer free digital offers that we warmly recommend! Today artists invite us to their home! There is house music and some – as in the last video – put a little dance on top! See and hear for yourself!
ARTE Concert: Hope@Home
In times of isolation, the star violinist Daniel Hope sets an example with ARTE and plays at Hope @ Home in the hearts of the audience at home. Hope invites you to his living room until April 7th at least – every day for 30 minutes at 6:00 p.m. live on ARTE Concert as well as on the Facebook page and the YouTube channel of ARTE Concert. Accompanied by the pianist Christoph Israel, he interprets both classical and popular works – and his repertoire is full of surprising discoveries. Daniel Hope invites guests to play music together – of course with the required safety distance.
---
StayHomeMusicSessions by and with Frank Dupree
Making the piano sound orchestral with all its colors is Frank Dupree's great musical concern. The young pianist is known for his remarkable musical maturity and the extraordinary diversity that characterizes both his piano playing and his entire musical work. The wide repertoire ranges from baroque to contemporary music to jazz.
With his StayHomeMusicSessions, Frank Dupree virtually invites you to Rastatt at your home, where you can experience a small concert with one of his chamber music partners every day. Here is the LINK to the playlist:
www.youtube.com/playlist?list=PLoAROK1LBN2ptinCM2PWpavi6Zo7cN7HG
---
SWR 3: Music Coronavirus: Musicians give concerts in the living room #wirbleibenzuhause
If you like live music, you have to stay without it due to the current corona crisis – but not completely: concerts also happen in the living room. More and more artists are showing this and giving very personal insights. On Instagram you can find many of them under the hashtag #TogetherAtHome: John Legend, Chris Martin from Coldplay and Charlie Puth have already participated. On Sunday there was the first #wirbleibenzuhause festival live from the living rooms with Mathea, Michael Schulte, Lotte, Nico Santos, Álvaro Soler, Lea & Johannes Oerding. Here on SWR3 you can listen and watch it!
www.swr3.de/musik/Coronavirus-Musiker-geben-Wohnzimmer-Konzerte-wirbleibenzuhause/-/id=47316/did=5582088/65wy4h/index.html#utm_source=E-Mailk&utm_medium=share&utm_campaign=swr3.de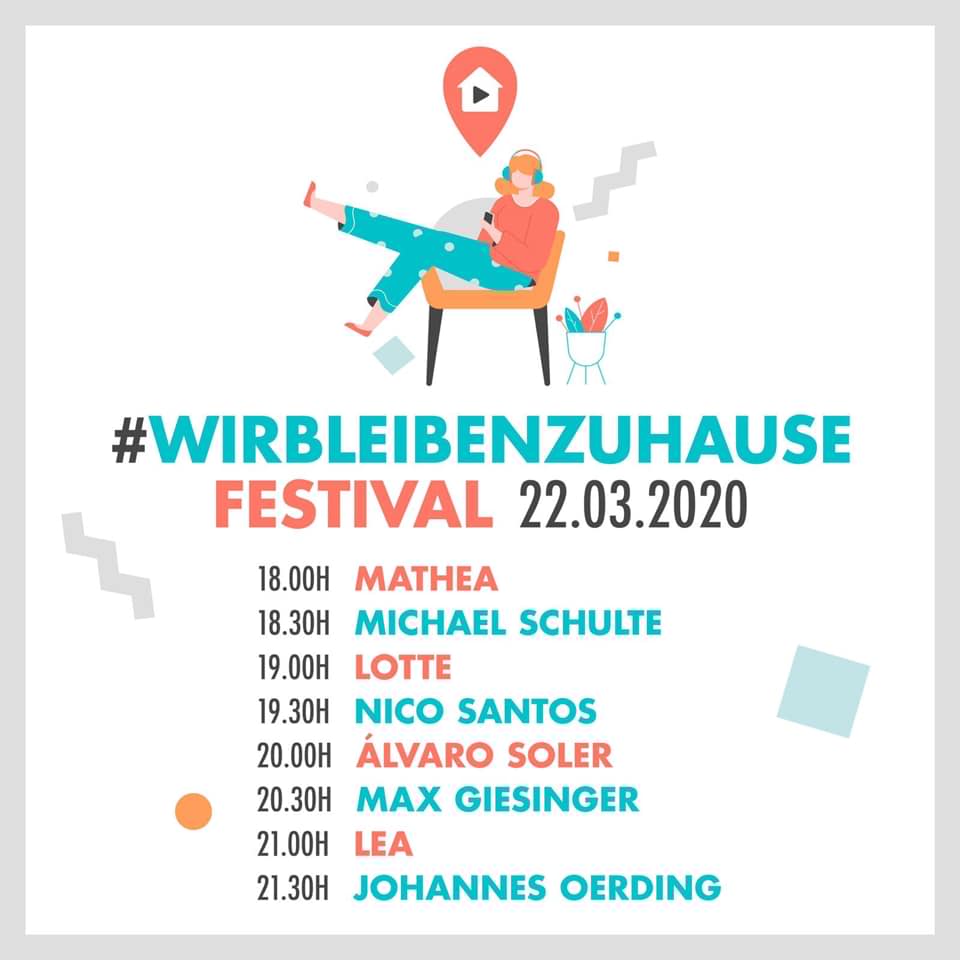 ---
BBC spotlight: Home isolation entertainment
This little video speaks for itself! The Cornish couple has got the hang of it and know how to best pass the time during Corona and quarantine.
https://www.facebook.com/bbcspotlight/videos/210951503448628/
---
Further articles of this category: